Who We Are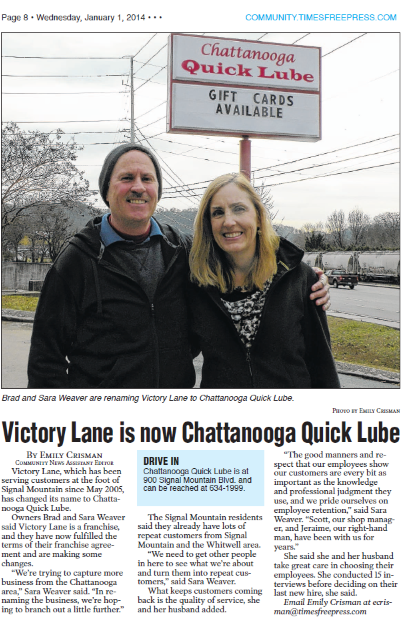 Brad Weaver had enjoyed a career as a printing salesman covering a Midwest territory for over 17 years, but by the fall of 2003, a major transformation within the industry was well underway. Mass printed material had been shrinking for years and he and his wife, Sara, had been talking about switching gears and starting a business of their own. Brad's first job, while still in high school, had been at a vehicle repair and service station. His passion for all things automotive had never waned, and they hoped to create a new business that would involve cars and motors.
A franchise by the name of Victory Lane, to specialize in quick lube oil changes and minor vehicle repairs was decided upon, and after some research, discussion, and prayer, the family sold their house in Chicago and relocated to Tennessee. This state had been a part of Brad's printing sales territory, and he had simply fallen in love with it.
They found a site at the foot of Signal Mountain and built a facility to house the business of their dreams, with the doors opening in May of 2005. Things were slow going at first, and the full-swing recession at that time did not help; but the crew got tough. By digging in and concentrating first and foremost upon customer satisfaction, their efforts, slowly but surely, began to be noticed. There were repeat customers. There were more and more who came in by word of mouth. Within a few years' time, the location was consistently ranked among the top performers within the franchise.
By the end of 2013, the ten-year contractual term had expired; although they had been on good terms with the franchisor, the Weavers felt a need to break free and move on alone. In doing so, the business was renamed Chattanooga Quick Lube.
The CQL team continues to concentrate on the details that set them apart from other quick lube services. Their goal has always been to provide the very best service possible and to ensure the complete satisfaction of each and every customer who drives through the tall, overhead doors!